High School Trip – Vietnam
July 20, 2023 – August 1, 2023
$3,750 (*includes airfare)
This trip is intended for high school students. Ho Chi Minh City, formerly known as Saigon, is the largest city in Vietnam. In South Vietnam, the city lies along the Saigon River, to the north of the Mekong River Delta and about 50 miles from the South China Sea. It is an international tourist destination with a modern look and feel. What the community we support lacks in resources they make up for with ambition. The Vietnamese people are eager to share their culture with you and learn about yours.
The cost of the trip covers virtually all in-country experiences, including:
Airfare
Housing and meals
Excursions and cultural activities
Service project materials and coordination
Daily transportation
Airport pickup and drop-off
Dedicated group leader and experienced local guides
24-hour emergency contact
T-shirt
The fee does not cover visa expenses or immunizations (if necessary). With the exception of meals during your free time on the arrival and departure days and any shopping you do, all trip costs are covered from the minute you arrive until the minute you return.
Ho Chi Minh City is extremely safe and peaceful. It is very developed, yet has maintained its cultural traditions.  Our housing facility in Ho Chi Minh City is a large guest house with various bedrooms, each with private bathrooms, a major common area with couches and coffee tables, and a large dining hall and kitchen where our groups eat together. It is set in a quiet part of the city outside of downtown, but only a $5 taxi ride to just about every popular part of the city.
Vietnam Service Trip Sample Itinerary
| Day | Morning | Afternoon |
| --- | --- | --- |
| Day 1 | Depart for Vietnam | Travel Time |
| Day 2 | Travel Time | Late Arrival in Ho Chi Minh City |
| Day 3 | Orientation | Tour of Ho Chi Minh City |
| Day 4 | Service Projects | Home Visits with Young Dreamers |
| Day 5 | Service Projects | Cooking Lessons |
| Day 6 | Service Projects | TUS/Vietnam War Discussion |
| Day 7 | Excursion to Mekong Delta | Excursion |
| Day 8 | Tour of Floating Markets | Return to Ho Chi Minh City |
| Day 9 | Service Projects | Project Planning |
| Day 10 | Service Projects | Farewell with Young Dreamers |
| Day 11 | Free Time | Market Visit & Departure for Airport |
| Day 12 | Arrive home | |
Preparing to Travel to Vietnam
We are here to help you every step of the way.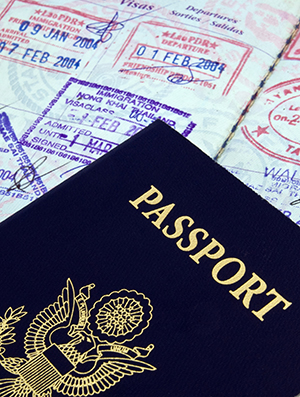 Booking Your Flight
If airfare is included in your trip fee, Dream Volunteers will coordinate flight arrangements for the group on a major commercial airline so that you may all travel together. If airfare is not included, then Dream Volunteers will send you instructions for purchasing your ticket individually.
Weather
Weather in Vietnam is fairly consistently warm but it can vary significantly from one region to another. With more than 2000 miles of coastline, mountains, and dense jungle, the climate is very diverse. Ho Chi Minh and South Vietnam, where we will spend our time, is typically quite consistently warm and humid year round. The average temperatures in the south range between 25 – 35°C. (80s F).
Most travelers to Vietnam aim for the dry months of November to March. Throughout much of the wet season (July – November), rainfall is generally heavy but short lasting, often occurring in a mid-afternoon heavy downpour.
Vaccinations
The US Centers for Disease Control and Prevention (CDC) recommends the following immunizations for travelers to Vietnam.
Up-to-date boosters for routine vaccinations
(measles, mumps, chicken pox, etc.)
Hepatitis A & B
Typhoid
Malaria
Japanese Encephalitis
Rabies
Yellow Fever*
Zika has been reported in Vietnam, as is Malaria and Japanese Encephalitis, and the CDC recommends travelers to Vietnam take precautions to prevent mosquito bites.
Many of the vaccinations should be started four to eight weeks in advance so please check with your healthcare provider or Travel Medicine clinic. Please refer to the CDC website or your doctor for more information on necessary vaccinations and insect repellents.
*There is no risk of yellow fever in Vietnam. The government of Vietnam requires proof of yellow fever vaccination only if you are arriving from a country with risk of yellow fever (not the US).
What to Bring
On our service trips, we will be dressed very casually. We recommend wearing light clothing, with short sleeve shirts and pants/long shorts/skirts/or dresses that cover the body. Avoid revealing tank tops and short shorts. Make sure to bring comfortable sneakers or tennis shoes to wear during our service projects. Sunglasses and a hat are also recommended.
Here are some suggestions:
Sneakers and closed toe shoes
Casual wear: light pants, loose-fitting shirts, T-shirts, jeans, raincoat
Light sleepwear
Ear plugs if you are a light sleeper
Sunglasses, hat and sun block
Wet wipes and hand sanitizer
Small bath towel
Personal toiletries, e.g., shampoo, soap, toothpaste, etc.
Personal medical kit with supplies that you think you may need: (i.e. Anti-bacterial gel,Tylenol, Imodium AD, Pepto Bismol, motion sickness pills, bandages, Benadryl, Ibuprofen, antibacterial cream for cuts and scrapes, insect repellent, malaria pills, cipro antibiotics).


Note that we do have first aid and medical support available but if you have preferred over-the-counter treatments, you should bring those with you.
Travel electronics: music players, cameras, etc.
A notebook or journal and pen
Water bottle
*Vietnam uses 220 Voltage. You will need a plug adapter in order to use US electronics. This is the same adapter as used in Europe.
Donations & Gifts
Participants often ask what they can bring with them to support the communities they are serving. Here are some ideas about how you can contribute.
Most of our time in Vietnam will be spent working in orphanages. These orphanages often lack childrens clothing, toys, art supplies, and books. If you have the capacity to collect bring such items with you, it would be greatly appreciated, though is not at all expected. You may also wish to consider small gifts for the directors and caregivers at these facilities, including such things as perfume or cosmetics, chocolate, or other speciality items from where you live.
Monetary donations are most helpful. If each of us could raise at least $100, we would be able to send 2-3 teens to school for an entire year, as well as improve the physical structure of the local elementary school.
Due to the humanitarian nature of this trip, you may find creative ways to ask friends, relatives, colleagues, teachers, store owners, etc. for monetary and in–kind donations. We can provide you with two documents, which may aid you in your efforts:
1. In-Kind & Monetary Donations Letter for Store Managers/Owners
2.. In-Kind & Monetary Donations Letter for Friends, Relatives, Teachers
All tax-deductible checks can be made payable to our 501(c)(3)non-profit,Young Dreamer Network, and mailed to our headquarters: Dream Volunteers, 2221 Broadway Street, Redwood City, CA 94063
Fundraising
There are many ways to fund your trip and we encourage you to think creatively. Given the nature of your service trip, others may be interested in supporting or sponsoring you or contributing to the cause.
View Funding Your Trip for more ideas about financing your trip or Fundraise for how to involve others in the cause.