College Service Trip – India
June 19 – July 1, 2023
$3,750 (*includes airfare in/out of SFO)
This trip is intended for college students. As much as India is a fascinating place to visit, there is much need. Rapid urbanization has pushed many of India's families into crowded slums where the struggle to get by everyday impedes any hopes of staying in school and finding a way out. And conditions in rural communities are no easier as families struggle daily with a lack of food, clean water, electricity, and basic healthcare. Our projects in India are focused in Jaipur, in the northern state of Rajasthan where there are strong cultural traditions and warm, lively people. Our efforts center around education and community development. We ask you to join us collaborating with our Indian partners and students in brining positive change to their community this summer.
The cost of the trip covers virtually all in-country experiences, including:
Airfare
Housing and meals
Excursions and cultural activities
Service project materials and coordination
Daily transportation
Airport pickup and drop-off
Dedicated group leader and experienced local guides
24-hour emergency contact
T-shirt
The fee does not cover visa expenses or immunizations (if necessary). With the exception of meals during your free time on the arrival and departure days and any shopping you do, all trip costs are covered from the minute you arrive until the minute you return.
Jaipur is a bustling medium-sized city in Norther India. It is developed, yet has maintained its historic landmarks and cultural traditions.  Our housing facility in Jaipur is a large guest house with various bedrooms, each with private western bathrooms, a major common area with couches and meeting space, and a large dining hall and kitchen where our groups eat together. It is set in a part of the city outside of downtown, but only a $5 taxi ride to just about every popular part of the city.
Preparing to Travel to India
We are here to help you every step of the way.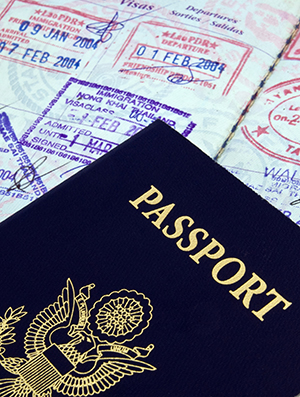 Booking Your Flight
If airfare is included in your trip fee, Dream Volunteers will coordinate flight arrangements for the group on a major commercial airline so that you may all travel together. If airfare is not included, then Dream Volunteers will send you instructions for purchasing your ticket individually.
Weather
The climate of Jaipur is hot and dry most of the time, although the rain season can include mild humidity. Jaipur is in a large desert and daytime temperatures are high throughout the year (at least 40C/105F most days). 
There is one rain season (called monsoon season): from June to September with frequent rainstorms throughout the season. Mosquitos are most active during this time.
Vaccinations
The US Centers for Disease Control and Prevention (CDC) recommends the following immunizations for travelers to India.
Up-to-date boosters for routine vaccinations
(measles, mumps, chicken pox, COVID-19, etc.)
Hepatitis A & B
Malaria (prescribed as a pill)
Meningitis
Typhoid
Malaria has been reported in India and the CDC recommends travelers to be rigorous about preventing mosquito bites.
Many of the vaccinations should be started four to eight weeks in advance so please check with your healthcare provider or Travel Medicine clinic. Please refer to the CDC website or your doctor for more information on necessary vaccinations and insect repellents.
What to Bring
Jaipur is hot. Your clothing needs will be fairly casual and you will want light layers. While we advise traveling light, you will have limited access to laundry so you should plan accordingly. In Jaipur, the locals dress conservatively, covering most parts of their body (avoid tank tops and short shorts). Also, you will be expected to remove your shoes when visiting at a home (many wear sandals or slides).
Some suggestions to pack:
ATTIRE
Casual & Light (Layers)
Short sleeve shirts, long shorts, or summer pants/skirts/dresses
Old clothes for some project work that can get stained/ dirty
Comfortable sneakers and/or sandals
Extra socks (to avoid blisters)
A light rain jacket or poncho
OTHER
Bug repellent
Flashlight or headlamp
Water bottle
Sunglasses, hat and sunscreen
OTC Medicine
Journal and pen
Ear plugs if you are a light sleeper
Spending Money (approx $200)
Donations and Gifts
Participants often ask what they can bring with them to support the communities they are serving.
Here are some ideas about how you can contribute.
Monetary donations are most helpful. If each of us could raise at least $100, we would be able to contribute to annual tuition for our teens, as well as improve the physical structure of the local neigborhood youth center.
Due to the humanitarian nature of this trip, you may find creative ways to ask friends, relatives, colleagues, teachers, store owners, etc. for monetary and in–kind donations. We can provide you with two documents, which may aid you in your efforts:
1. In-Kind & Monetary Donations Letter for Store Managers/Owners
2. In-Kind & Monetary Donations Letter for Friends, Relatives, Teachers
All tax-deductible checks can be made payable to our 501(c)(3)non-profit, Dream Volunteers, and mailed to our headquarters: Dream Volunteers, 211 Hope Street #390726, Mountain View, CA 94041.
Fundraising
There are many ways to fund your trip and we encourage you to think creatively. Given the nature of your service trip, others may be interested in supporting or sponsoring you or contributing to the cause.
View Funding Your Trip for more ideas about financing your trip or Fundraise for how to involve others in the cause.